Paths to Practice Perfection
Is Your NPWT Working for YOU Across Care Settings?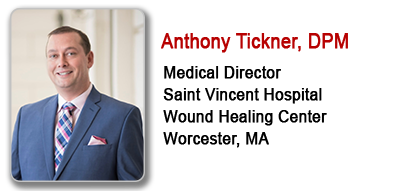 Negative Pressure Wound Therapy (NPWT) has proven to be a potent modality that is extremely beneficial for even our most chronic and complex wounds. However, in our practice we discovered that some patients were unable to adhere to their treatment plan using our current NPWT device. Patients reported pain with dressing changes, an inability to sleep due to pump noise and difficulty navigating the pump, which negatively impacted the overall patient experience and ability to effectively promote wound healing.
As such, we evaluated and subsequently adopted Medela's Invia® NPWT system to meet the high standards expected by our practice. Not only did we notice anecdotally that the Medela system is quieter, lighter, stays intact better and helps reduce pain in sensitive patients, but the Intelligent Pressure Control technology ensures delivery of the prescribed pressure at the wound site - a standard set by the European Wound Management Association (EWMA)3. Additionally, the Invia system has innovated on the current standard of care through airflow cycles that actively adjust to changing exudate levels (up to 20 times in 5 minutes - a process called Dynamic Exudate Removal).
Use of the Medela Invia NPWT system has resulted in a trend of faster healing that we attribute to better patient experience.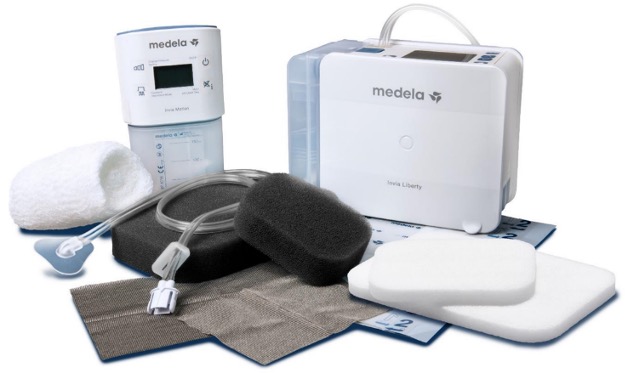 CASE STUDY
Patient presented to the St. Vincent Hospital wound care center after previous 4th and 5th ray resection with graft application

Social History: Stopped smoking 2 months before initial visit, denies alcohol and drug use

Wound presents with erythema, edema, and serosanguinous drainage, no odor
Co-morbidities
PMH: DM-2, Osteomyelitis, PAD (currently receiving PICC line and follow-ups with vascular)
Medications:
Tramadol, Buspirone, Gabapentin, Metformin, Rosuvastatin, Eliquis, Aspirin, Sertraline, and Trazadone
Case Progression - Area/Volume Progression
19 Days on NPWT with dramatic results – 124% reduction in VOLUME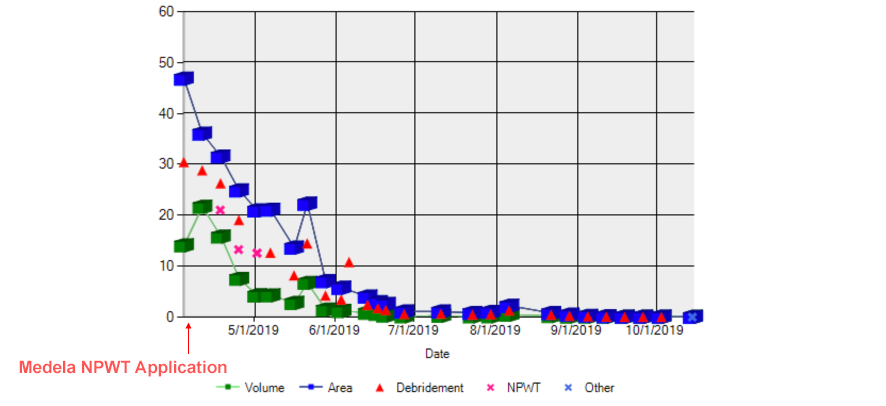 Initial Wound Size: 7.8x6.0x0.3cm, Right Lateral Foot

O Days of NPWT

7 Days of NPWT – Patient received NPWT at -125mmHg with dressing changes 3x/week

14 Days of NPWT

19 Days of NPWT

Wound went on to heal without NPWT and stayed healed.
Conclusion:
Negative Pressure Wound Therapy (NPWT) has proven to be a potent tool in our armamentarium of goodies.
Appropriate use of negative pressure has and always will prove beneficial to even our most difficult patients.
As NPWT continues to evolve, so must we as practitioners.
Keep an eye out for the Medela line of NPWT as it will continue to be a game changer.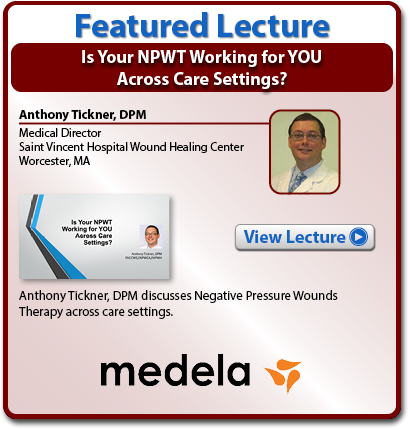 Schintler MV. Negative pressure therapy: theory and practice. Diabetes Metab Res Rev. 2012 Feb;28:Suppl 1:72-77.

Timmers MS, Le Cessie S, Banwell P, Jukema GN. The effects of varying degrees of pressure delivered by negative-pressure wound therapy on skin perfusion. Ann PlastSurg. 2005;55:665-671.

Apelqvist J, Willy C, Fagerdahl AM, et al. Negative Pressure Wound Therapy. J Wound Care. 2017 Mar;26(Supl 3):S1–S113.